Hats off to Howie

I gotta say, hats off to Howie. Our hunky hero is doing some serious politicking on myspace and beyond. Way to go, Jedi Master Howie. ;) As a nod in the H man's direction, I've put together a little photo gallery of sorts.
First, we have Howie the Flirt.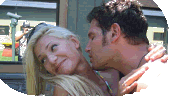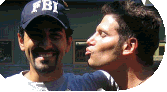 Clearly, gender is not an issue when 500K is at stake. lol. You go Howie.
Next up, a little Jedi warrior action with our girl Janie...
And to complete the nod, here's a couple of video clips I found from last season. He's such a hoot! Here he is explaining where "nerd herd" came from - The first several seconds of the video are on Rachel, but fear not, Howie lovers, it's all about him after that.
This next one cracks me up. It's Howie showing Janie his penis, and the ensuing conversation about size with Howie, Janie, Beau and James... too funny.
And this just in from Howie... if anyone out there missed the top 20 BB Allstars show, or if you just wanna see it again, it's re-airing tonight at 8pm on CBS, ofcourse.