Apres Cards
11:35pm BBT
BACKYARD - Will & Janie
The card game is finally over. No more need to sit next to Erika in her creepy nighttime indoor sunglasses.
Will: I mean, it's been 64 days, and now the lights are bothering her? She looks like a creepy evil super hero... She looks likes an xray with hair.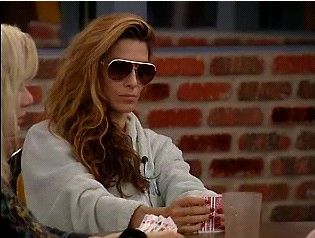 Will: You're acting a little weird again.
Janie: I'm fine. I want to hang out with you.
Will: I want to look at your toes.
Janie: Noo! I have funky toes.
Will: I think there's something wrong - a fungal infection. Lemme look.
Janie: No, Will. I don't want you to. It's embarrassing.
They have a little tiff, do the "I hate you," no "I hate you" thing...
Janie: Do you want to go to the red room?
Will: To talk or to fight?
Janie: Both.
Big smile from Will.
Will: Has anyone ever told you you have really pretty eyes?
Janie: No.
Will: I wouldn't think they would, because you don't.
He's gazing into them, clearly joking. They start singing together and...
FLAMES