Waffling Around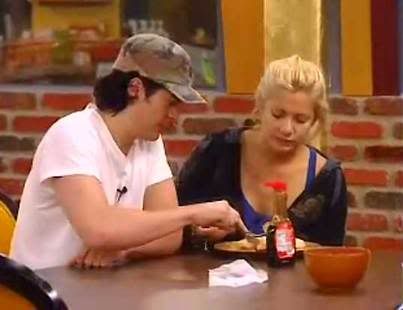 Since we're STILL waiting for the flames to go away, so we can know who won the veto, I thought I'd post this cute little exchange between Will and Janie from around 3:30pm BBT, when she finally woke up. I don't know about you, but I've had far too little Will-Janie time in the past 24 hours.
3:30pm BBT
KITCHEN - Will & Janie, Boogie, Chicken George
Janie is cooking up a waffle.
Janie: Will, do you want some of my waffle?
Will: YES! Is that a euphemism?
Laughter from everyone.
Will: It's like eating newspaper, it's like eating cardboard, it's like eating...
Janie: Shut up Will! Just leave if you don't like it!
Will: (whispers) I'm sorry, Janelle.
They continue to eat in silence, from the same plate.
Will: I shouldn't hang out with you, because I'm annoying you.
Janie: No, you aren't, stay here.
In less happy news... here's the Janie-Will report from around 7:30pm BBT
BUG ROOM - Janie & Will
Janie's done putting on her make-up. She finds Will, pulls him into the bug room, and the following ensues:
Janie: Swear to me on Erin's life that you will save me.
Will: I swear on Erin's life.
Will: The only problem is if Danielle wins it…
Janelle: Don't let her win it!
Will: I gotta go…
Janelle: No! I've been wanting to talk to you.
Will: We can't right now.
***Make the bad feeling go away!!
You MUST win it for yourself, Janie.
A few minutes pass...
Will is deep in thought, lying on the floor in the ant room. Janie comes in.
Janie again tries to get him to talk to her, and he wont, saying they just can't talk now. Eventually, she leaves.
***I really want to believe he's just being cautious because there are people too nearby, and it's too close to comp time to arouse suspicions... I want to, but I need proof.