Is Will Single?
A few minutes ago, I got a heads up from one of our readers to go and check out Will's myspace page - that all pics of Erin had been removed, and his status had been changed to single. Ruh Roh, Will.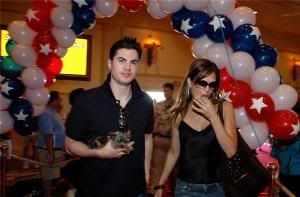 Here's what the mod on his myspace page says: "There has also been speculation on the disappearance of the pictures of Will and Erin Brodie that were on the site. After the infamous shower scene with Mike, Erica, Janelle and Will, Erin requested that we remove them and we did. We will not make any other comment on this as it is a private matter between Will and Erin and we respect that. "
OK, we will too... Best wishes to the both of them. Game is game. Life is life. Here's hoping Will can work his magic as well outside the house as he can inside.
Incidentally, Julie Chen has disappeared from Will's friend's list. Here's what his mods have to say about that: "There has been speculation over Julie Chen disappearing from Will's top friends. Julie or someone on her behalf removed Julie Chen as a friend of Will's on the Saturday after Will called her "sweetheart" in a Live Broadcast."