Solitary Dani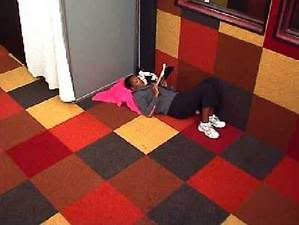 OK.. Dani went into solitary confinement about 20 minutes ago, at 6:30pm BBT. She immediately spread a pink something on the ground, then lay down upon it to read her bible. Not five minutes had passed before she put down the bible and started crying... I wasn't sure at first whether she'd been reading a particularly sad passage, or if the tears were show related.. till she said, "Damn Game." It's been 20 minutes and she's still crying.
In direct contradiction to her earlier bravado, I really don't think the Solitary confinement is going to suit Danielle at all. Frankly, I'm starting to worry about her. She's crying and blankly staring at nothing... If she doesn't stop in the next couple hours, I hope the producers have the decency (not to mention intelligence) to at least ask her if she'd like professional attention.
True, it could be a ploy on her part to garner such a response, but I really don't think so. It doesn't look like that, and it doesn't look like she's just having a good "girl cry, " if ya know what I mean... Look for yourself...